Join our family of clients.
In these turbulent days for healthcare, you shouldn't have to go it alone. It may be possible for our agency to help you with service on your existing individual or group health insurance without you having to switch to another carrier.
Changing agents doesn't cost you any extra and if we don't deliver, you are free to choose another agent.
To find out whether we can help with service on your current plan, print and complete the Agent of Record letter below on your company letterhead and return it via mail, email, or fax.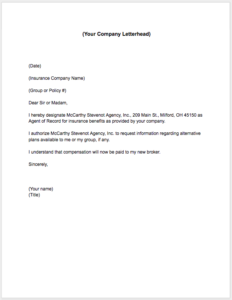 Call our office at 513-891-9888 with questions.
McCarthy Stevenot Agency, Inc.
209 Main St.
Milford, OH 45150
Fax: 513-891-3088
Email: ted@mccarthystevenot.com
McCarthy Stevenot Agency, Inc. is a licensed life and health insurance broker in Cincinnati, OH.